A big shout out to all my Tripawd brothers and sisters.  I am sneaking away to the den to update all of you.  My pawrents got a very good call the other day.  My surgeon sent my whole leg out to be biopsied, and guess what — I had fibrosarcoma and not osteosarcoma in that nasty old leg.  According to my dr., the 2 cancers are difficult to discern when you take a small biopsy like they took for the initial diagnosis, and it often takes a larger sample (like my whole leg) to confirm it is fibrosarcoma.  It appears that this type of cancer is normally in soft tissue, and rarely infiltrates bone.  Also, it is only about 5% of all cancers in dogs. Osteosarcoma is much more prevalent.  I don't know why my pawrents were so surprised that I would have a rare cancer.  I've always told them I was special 🙂  Now here's the great news — fibrosarcoma is much less agressive than osteosarcoma and usually doesn't spread.  In fact, if they are able to completely remove the cancerous area, it rarely spreads to other areas.  And since they took off my entire leg, the chances are very good that they got it all and I will live a long and healthy life.  I will still have to do some chemotherapy just to be sure, but it won't be as bad as initially thought.
I am really starting to get around well.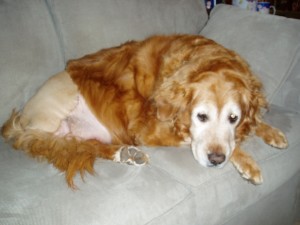 My scar is starting to heal nicely – and it looks like I'm wearing a fur sweater!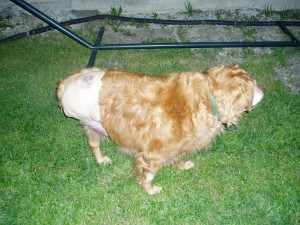 I even get to go outside to play in the grass whenever I want.
I am so glad I'm going up and down the stairs all by myself now.  When Daddy had to carry me, I felt so helpless.  However, Daddy had to do everything he could for me because …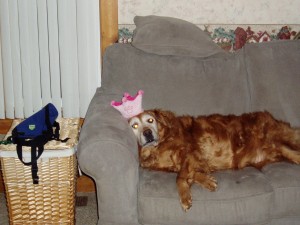 I'm a princess!!  I'm a princess!!  I'm a princess!!
After reading some of the other blogs, I have realized how lucky I am to have my doctors.  My regular doc — Dr. Steve really likes to get down on the floor and play with me when he sees me.  It's because of him that we caught this stupid cancer so early.  Also, the specialists at VCA in Aurora, IL are pawesome.  They also like to get down and play with me on the ground.  They also call like every other day to check on me!  They told my pawrents that when I stayed overnight there, I laid in the front of my kennel and barked at everybody that passed by until they came and played with me.  Yeah, I've always been pretty social.  My Daddy says I don't know any strangers.  This week I get to go see my oncologist, Dr. Green.  I really like her because her name is Dr. Green, and green is my favorite color.  Anyway, I hope all my tripawd friends are feeling good today.  We'll keep you posted on my progress.
XOXO,
Ginger Snapper