My pawrents took me on an exciting outing last weekend – to a car show. Actually Daddy was working at the food stand for his Kiwanis Club, so Mommy took me to see him and get some lunch. Guess what – I was the hit of the park and not all those fancy cars!! Everyone wanted to know about me and why I only had 3 legs. My pawrents were more than happy to gush about me.
One nice lady saw me and had to come over to meet me. After hearing my story, she told my pawrents that she was so happy to see that they "didn't give up on me" given my diagnosis and age.  I heard my pawrents say that I would be with them for a lot longer.  That makes me feel very, very happy.  I guess they think I am special.  This nice lady even offered to sit with me if my pawrents wanted to walk around.  She bent over to pet me and say hi, so I gave her kisses on her face.
Here I think my Daddy is mugging for the camera, but all I care about is looking at that cool car!!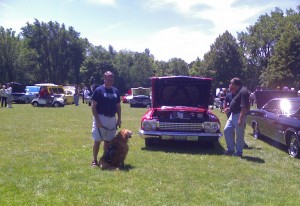 Is there another car over that way?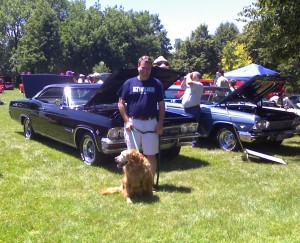 This way to more cars, Daddy!!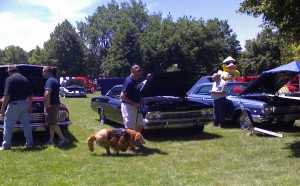 Now then, today is my 2 1/2 month ampuversary.  Yeah for me, but my pawrents sure don't know how to celebrate very good.  I had to go to the hospital and my 4th chemo treatment — yucky!  I am really tired right now.  The good thing about today is I got to see my friend Angel.  He is pawesome and nice to me.  He said I always look so sharp in my Ruff Wear harness.  My pawrents asked him if they have a lot of Tripawds in the hospital, and he said they did.  So guess what my pawrents did.  They had printed off a bunch of business cards from the Tripawd website and gave them to Angel to give to other Tripawds so they can find the same caring family that we have found.  Angel said he loves the saying that it's better to hop on three legs than to limp on four.  So look for more members from the Southwest suburbs of Chicago!
I hope all my Tripawd friends are doing well.
-Ginger