Well, I have a lot to celebrate and wanted to share with my friends so maybe you can get some extra treats at your house too!!
Wednesday was my last chemo treatment.  Yeah!!  They gave me a pink bandage and a pink kerchief as a "graduation gift."  Melanie and everyone at VCA Aurora Animal Hospital treats me so good – like the princess I am.  I go back in a month for x-rays and blood work and then every 3 months after that to make sure I am still cancer free.
Now you know the graduation color was pink — I am a prnicess after all!!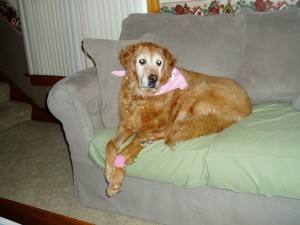 Yesterday, Aug. 14th, was my 10th Birthday.  I know what you are thinking, I don't look a day over 6. I keep trying to convince Mommy to let me dye my white face, like she does with all those white hairs on her head but she says I look cute no matter what color my fur.
Today, Aug. 15th, is my 4 month ampuversary. My pawrents are spoiling me rotten – ok rottener – because they are so happy about my progress and determination to keep on hoppin'.
So come on – like Kool and The Gang say – Celebrate Good Times – no matter how many or how few, every one is special.