Hello to all my Tripawd friends!  It has been a while since I posted, but that is because I have been very, very busy.  Recently, a special package arrived at my house.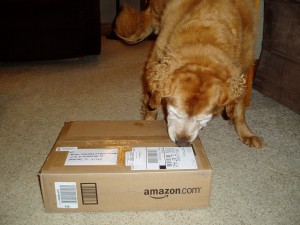 What could it be inside?  It kinda smells like poo from East Tennesee.  I asked my Mommy who it is from.  She said it was from my friend ET Gayle.  I still don't know what it is, but I'm very excited.  Let's open it up and look inside!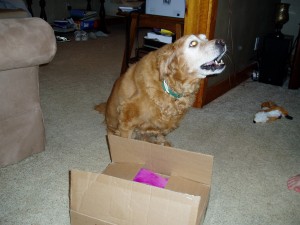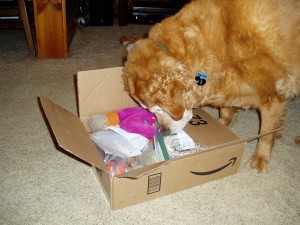 OMD — it's Barney.  I have heard so much about this dude.  I just don't know what to do first.  I think I'll just start by chewing on him.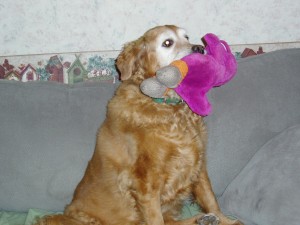 Barney insisted on keeping his special socks on that Gayle's Mom made him.  He said it was too cold here in Illinois.  I allowed it because I did hear that those TN socks have special "juju."  Anyway, I tried and tried to hurt Barney by chewing on him …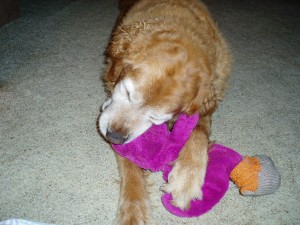 but that little dude is a LOT tougher than he looks.  Now don't get me wrong, I have faith in my ability to tear Barney apart, but by this time I was getting impatient, so I tried to suffocate him by sitting on him.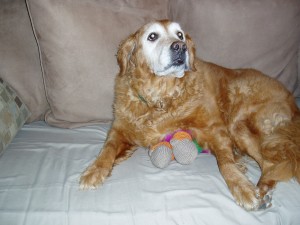 He looks like the Wicked Witch of the East after the house fell on her — bazinga!  I crack myself up!  But seriously, that guy can hold his breath for a really long time.  By this time, my pawrents were getting mad at me for being mean to Barney.  They told me I needed to be nice because Barney was a guest in our house and town and we needed to show him the sights.  I decided to bide my time — and engage in a little psychological warfare against Barney while we showed him around.  First he tagged along to my Daddy's office on Saturday morning.  A lot of times, my Daddy takes me to his office on Saturdays so I can help him work.  I want to go during the week, but he won't let me.  Something about all of the secretaries just wanting to love on me and not do their work.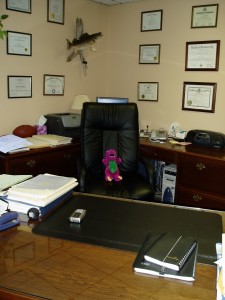 By this time, Barney was starting to get a little cocky.  He insisted on copying his butt.  He said he wanted to mail it to Comet because she has been talking smack about him.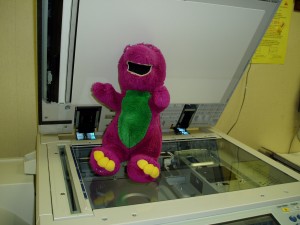 Barney asked if he could go to work with Mommy but come to find out, he didn't pass the background check.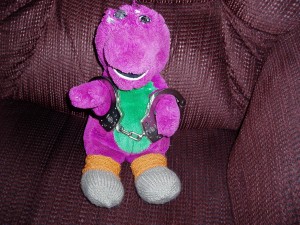 By this time, Barney was really annoying me, so when my pawrents went to work on Monday, I decided I had to show this guy what is important in my house and my state.  First, I showed him my video from Cometdog.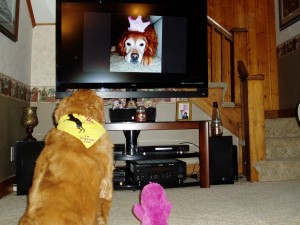 I told him that this state is only big enough for one diva, and that job is already taken – by me.  I am the princess of this house and I call the shots.  Next, I schooled him on my Daddy's college pride by showing him my Chief Illiniwek video.  We are still mad that U of I retired the Chief.  Here, I'm telling him he needs to show respect for his surroundings.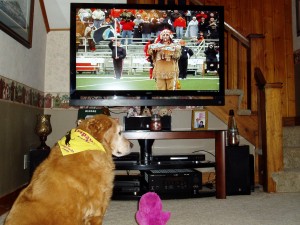 My Mommy always complains that her Millikin doesn't get the love that Illinois does, so I'll just throw out a "Go Big Blue" for her.
We then showed Barney all over Pontiac.  One of the coolest things about my town is what happened last summer.  All of these dogs came to town.  They were called "Wall Dogs."  See, they are sign and mural artists who all get together in a different town every year and make murals.  It's really cool and they came to my town last summer.  We decided to show Barney what these dogs could do.  Here are some of the murals they painted.  Any kind of "dog" is fine in my book.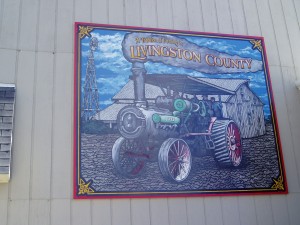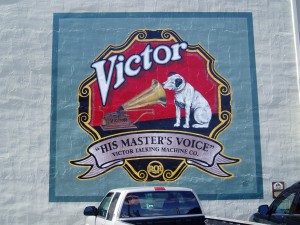 I like this one because it's got a dog in it.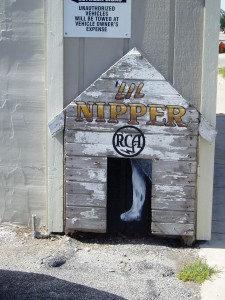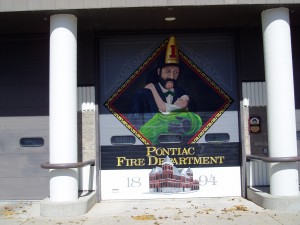 I decided to try and lull Barney into a false sense of security by pretending to be nice to him and actually get in some pictures with him — all the time planning his demise.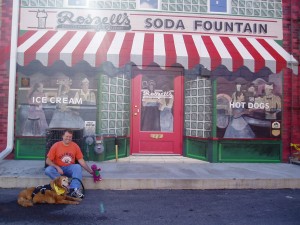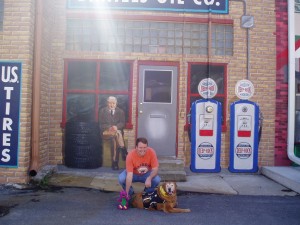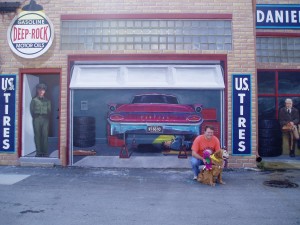 Now, just so you know – my home town is right on Historic Route 66.  I'm sure you have heard of it.  We have a nice mural all about it, and we all took a picture with my Mommy's car: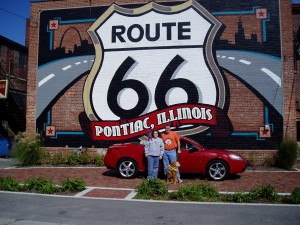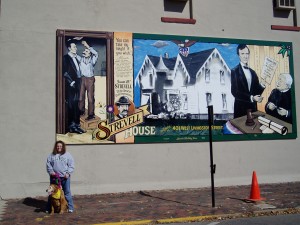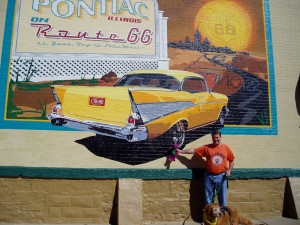 Now, not only do we have tons of murals, but we also have little cars – "Pontiac" Chevys – on our sidewalks that are painted by local artists.  They are just big enough for a three legged dog and a purple dinosaur to sit in.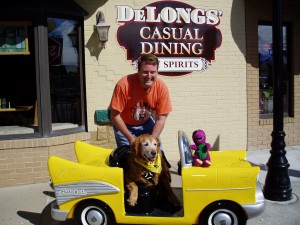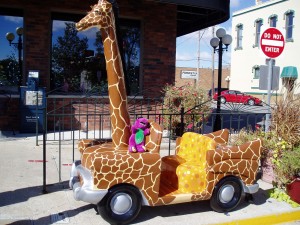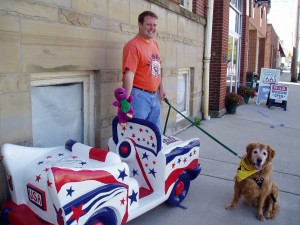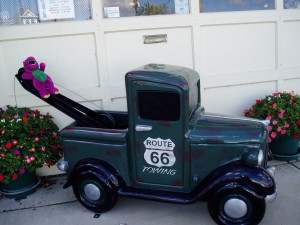 We even have our own Route 66 Museum.  It's only a block away from my Daddy's office.  I can't believe he ever gets any work done.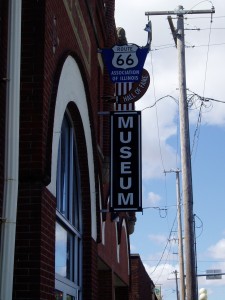 Now, we live in the County seat.  What that means is we have a court house in my town where my Mommy and Daddy work sometimes.  We have a really cool court house built like 140 years ago.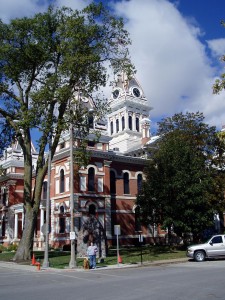 We have a very rich history.  Even Abraham Lincoln came here and argued several cases- although not at this court house.  We even introduced Barney to Abraham Lincoln: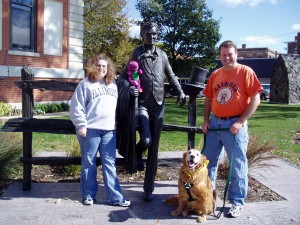 I'm very confused by this.  I didn't think Abraham Lincoln was around for cars.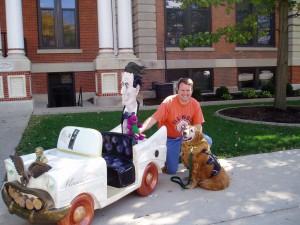 With all of our adventures, Barney now believed that I was his friend.  Now, just so you know, I really wasn't being that nice to Barney.  The whole time, I was planning on doing this to him.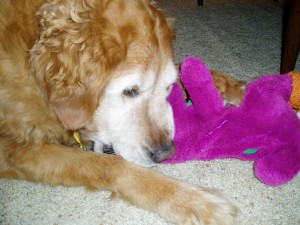 Barney agreed to join us at VCA Animal Hospital for a special dog pawty.  They were celebrating all their dog cancer survivors and remembering those that have gone onto the rainbow bridge. 
I thought this would be a great opportunity for some other dogs to get their teeth on Barney.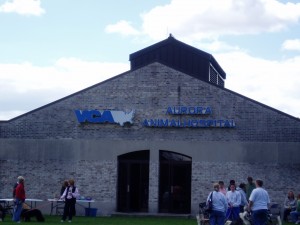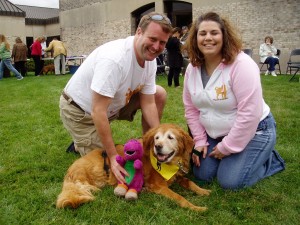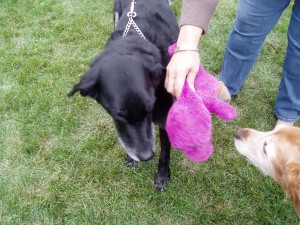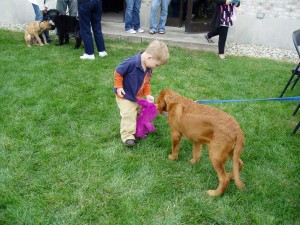 I got a lot of love from everyone at the pawty.  My little cousin fed me hot dogs.  He didn't want to share his cupcake but I took it anyway.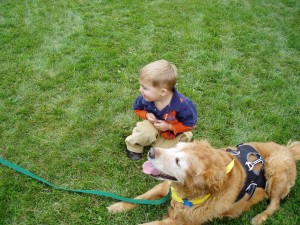 Barney decided he wanted to act like a big shot and he tried showing his skills on the agility field.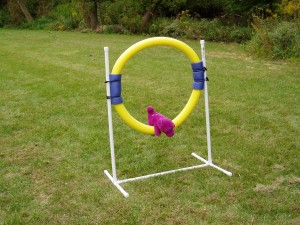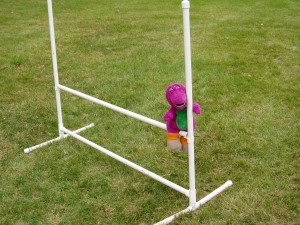 Once back at home, with Barney feeling confident in our "friendship," he let his guard down.  That is when I pounced and did this: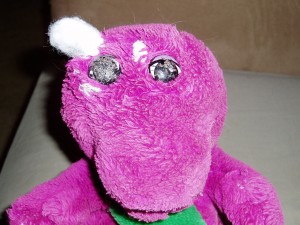 I didn't want my pawrents to see what I had done, so I got Barney an eye patch and tried to pass him off as a purple pirate.  Halloween is coming up, you know.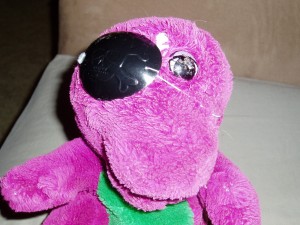 Barney was so traumatized, he asked if we could go back to Daddy's office.  He had some business he wanted to take care.  I decided to humor him.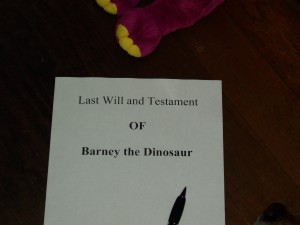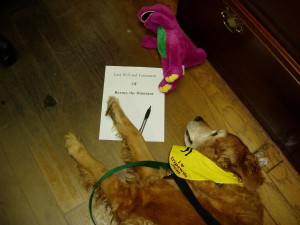 Then Barney took off.  He just ran away without warning!  We got a phone call, saying a purple dinosaur/pirate was on the bridge.  We rushed down to the river and saw this: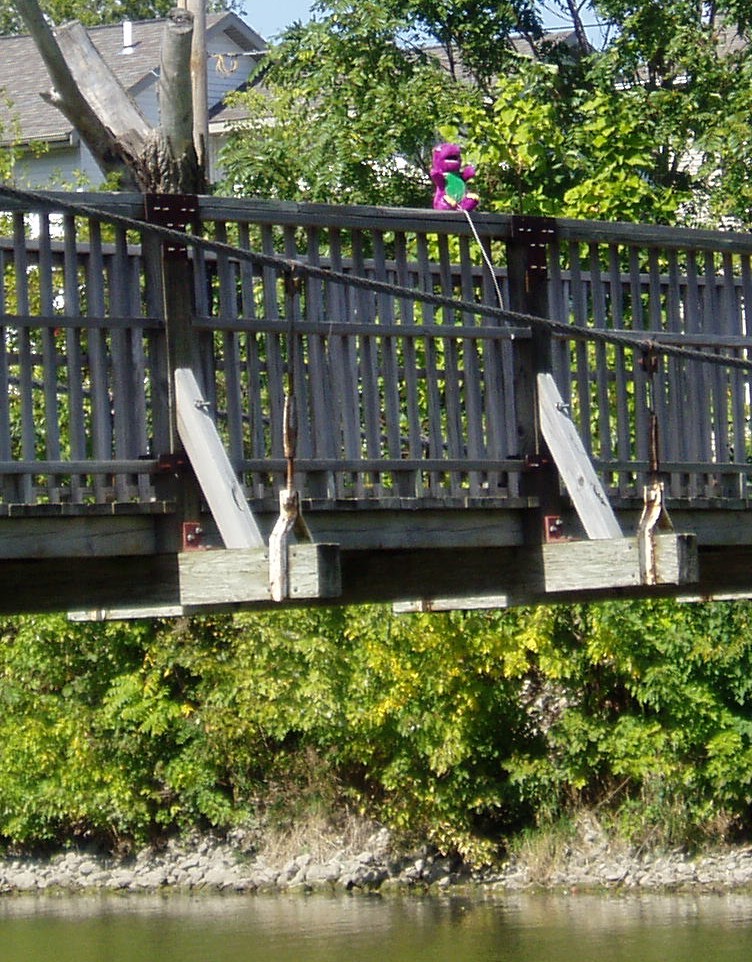 He kept yelling that it was all my fault.  Geez.  Now that the big moment is here — don't you wonder if I let him go through with it?
I guess we will have to wait and see if Barney gets rescued by the next tripawd or if he fell to his death in Pontiac, IL.  Or perhaps he got washed down the Vermillion River to a new home.
Goodbye Barney – I will never forget our adventures together or how your insides tasted.
Bazinga!!!
-Princess Ginger