Hi, everypawdy!!  I'm still here despite my pawrents not having time to post lately.  Anyway,  a few weeks ago on April 15, 2012, I celebrated my 2 year ampuversary.  That's right – 24 months without my stupid old back right leg and 24 months cancer free!!!!  Can you believe it?  I am now three days away from 25 months post-amp.
I celebrated my 2 year ampuversary at the beach in Chicago with my good friends Isabelle and Sam.  Here are some pictures of my wonderful day.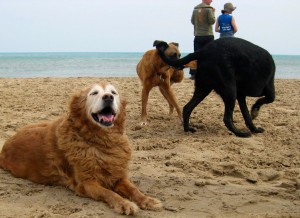 Look at me mugging for the camera while Sam and Isabelle are rough housing in the background.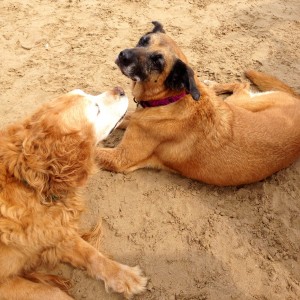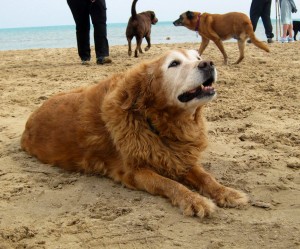 Note: all pictures are courtesy of Rick, Jan and Cynthia.  Thank you!!
A very special thank you to Rick and Jan for bringing Sam and to Cynthia for bringing Isabelle.  I did miss my best boy Angel Tate, but I know he was smiling down on me from heaven with my other friends.  It is the first time I've been to the beach without him, so my pawrents and I were a little apprehensive heading to the beach, but seeing everyone sure made us very happy.  Tripawd people are just the best!!!
My Daddy said that he and Rick (Angel Tate and Sister Sam's dad) have talked, and we are gonna try to get together a lot at the beach this summer.  That makes me happy.
I hope everyone is doing well, and staying ahead of the stupid cancer.  I hate that stupid disease, but we are keeping our heads up here in Illinois and looking forward to my third summer on three legs.
Take care everypawdy,
Ginger Snap